Cayenne Med Stick
Cayenne infused on-the-go pain relief
$60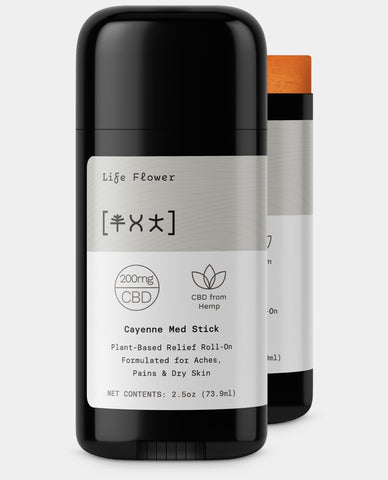 Product is not available at this time.
All-organic ingredients sourced directly from nature to ease aches, pains, burns, and scars. Coconut oil and olive oil work by nourishing the skin while the anti-inflammatory properties of beeswax, shea butter, lavender and eucalyptus essential oils relieve the muscles.
Ingredients
Organic Cayenne-Infused Coconut Oil, Organic Olive Oil, Organic Beeswax, Unrefined Fair-Trade Cocoa & Shea Butters, Organic Hemp-Derived Cannabidiol, Essential Oils of Lavender, Eucalyptus & Copaiba
Strength
200mg Pure Hemp-Derived CBD
Notes
Available in both a plastic "deodorant" style container, as well as our new eco-friendly, 100% biodegradable cardboard container. Life Flower products are made in small batches with all-natural and boutique ingredients. Orders are processed and ship within 14 business days. Please allow additional time for delivery.